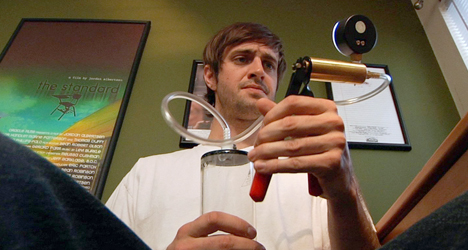 A penis pump is one way Patrick Moote hopes to measure up in 'Unhung Hero'
It's Memorial Day, and instead of celebrating and watching parades and whatnot, I decided to watch a documentary about penis size. Yes, a comedic, light-hearted documentary about the lengths one man goes to to measure up with more average-sized males. I didn't mean for this to happen, but it was too interesting to stop.
It all started in Dec. 2011 when actor Patrick Moote proposed to his girlfriend at a UCLA basketball game. They were front and center in the "mistletoe cam" as the live proposal was broadcast on the big screens throughout the arena. As he proposed, his girlfriend walked away and he stayed there looking completely shot down. Video of the proposal (see below) would go on to create a worldwide sensation causing people to ask why she would let him down.
What Moote later found out, and the entire world thanks to his documentary "Unhung Hero", was that she broke it off because his penis was too small. This enticed Moote to go on a worldwide quest to talk about penis size, from the social acceptance of "less than average penises" to how enhancement products and regiments help with making penises bigger.
It's a topic not many men would want to have, especially those who feel like they are small, but "Unhung Hero" makes it an enjoyable conversation to talk about. Sure, it is something that will emit giggles from people who are a bit childish — and come on, who isn't when the word 'penis' comes up? — especially when we see Moote talking to his parents about it, his friends, and even ex-girlfriends. When one of his exes says that on a scale from 1-10 he was a 3, Moote laughs it off and says he must have done something to piss her off.
The whole documentary isn't just funny interactions with friends, exes and passersby on the street. A sprinkling of professionals including urologists, sexologists and plastic surgeons and lifestyle and health advisors bring clarity and seriousness to the documentary.
And then there are the worldwide misadventures.
From getting kicked out of a sex store, to hanging weights from his penis in Taiwan and then recording guys in a Korean sauna and penile injections in Papau New Guinea. Especially with the incident in the sauna, the momentary idiotic lengths Moote goes to to do this documentary is humorously and uncomfortably honorable.
"Unhung Hero" is a refreshing break from a lot of documentaries that are all about social injustice or something of the like. Here is an embarrassing subject for half of the world's men, according to the film, but it showcases the problem in a light and digestible way. The film's bottom line tells you it's OK to be who you are in this hypersexualized world. While most think women are the only ones who are given an unrealistic image of beauty, the same goes for men, especially for the one thing we cherish most: our penis.
However, it does get a little drawn out as Moote weighs his options to get a penile enhancement procedure, or two, done. This part made me think of "Super Size Me", the Morgan Spurlock vehicle that showed him eating nothing but McDonald's for 30 days, and how a personal undertaking of a project can be daunting. Fortunately, Moote comes off a lot less arrogant than Spurlock and I enjoyed watching him.
Fun to watch with a group of friends, but nothing all too groundbreaking.
Rating: B-