It's here! The 23rd Philadelphia Film Festival is finally underway, and with a good slate of films from all over the world.
The over 100 selections have already had people lining up outside the theaters with their badges and tickets eagerly waiting to see some of the critically acclaimed films that have already made the rounds at international film festivals, from "Birdman" to "Mommy" and foreign language film Oscar hopefuls in "Force Majeure" and "The Way He Looks".
With so much to see, the Philadelphia Film Society, which coordinates the festival, proudly touts that during the 11-day festival you will "see something you'll never forget". Whether these be films that are great or so bad that you'll never forget it, PFF has a line-up that will guarantee some hits and definitely some misses.
Seeing as this was my first time attending a real festival with a badge - last year I bought tickets for four films - I was ready to start binge watching with long days and tons of experiences. There's nothing like spending a day at the movies seeing three or more films in a day. I thought it would be extremely tiring, but it was pretty enjoyable, even when every film you see is foreign and you have to stay awake to read the subtitles.
As I was highly anticipating many films, I soon found that only three days of movie watching I was watching a whole bunch of new movies with tired, redundant stories that brought nothing new to cinema.
(Scroll down to the bottom for ratings)
Day 1- Whoops!
The first two days showed only two films: "St. Vincent" and "Birdman". The first film is a new laffer starring Bill Murray, Melissa McCarthy and Naomi Watts, while the other is the critically acclaimed Alejandro González Iñárritu film starring Michael Keaton as a down-and-out actor trying to revive his career.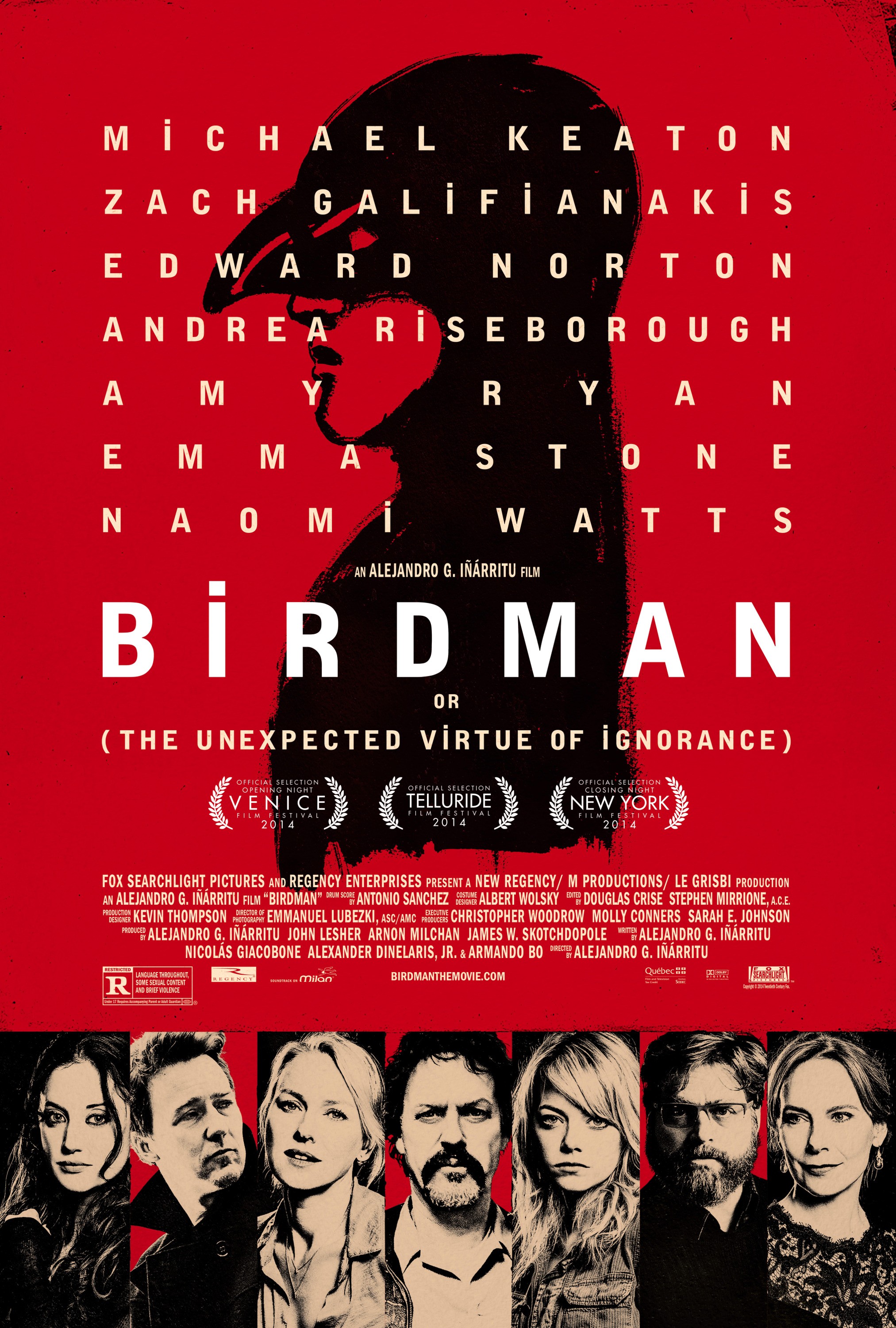 I obliged to skip "St. Vincent", and I had, thankfully, seen "Birdman" a few weeks back and avoided
(Read my review here)
the technical chaos that plagued its showing.
Slated to start at 8:30 p.m., a technical hiccup had postponed the showing in the Perelman Theater at the Kimmel Theater and had to be moved to another PFF site, the Prince Music Theater. It's not surprising there was an issue there. Last year I saw "August: Osage County" at the Perelman during the festival, and halfway through the film the picture cut out. The lights came up and about a minute later the film resumed without a hitch.
Maybe the Perelman isn't the best place to host movie screenings (though better than University City's The Rave which was plagued with problems last year).
While I did not bare witness to this, I was obliged to witness a few other setbacks during the next few days.
Day 2- A Diamond in the Rough
I knew for a fact this was going to be the longest day I would schedule. Four films in nine hours, and each film would get longer as the day went on.
It started out with two South American films at the Ritz Bourse: "Manos Sucias" and "The Way He Looks".
"Manos Sucias", is a Colombian export about two brothers who transport a torpedo full of drugs along the Pacific Coast. The young men use the dangerous job as a way to make money and escape their impoverished town, but when the torpedo vanishes in the middle of the night, they cling to a lack of resources and quick, destructive wits to get it back.
Not a new story, the film trudges along in a formulaic way complete with murder, close calls with law enforcement and a typical shady drifter. The only satisfying part is getting to know these characters from the non-professional actors who portray them. I gave this a fair rating on my ballot.
Next was Brazil's entry for Oscar's foreign language film consideration, "The Way He Looks", a nice coming-of-age story about a blind teenager, Leo, who falls for his new classmate, Gabriel. The story of a teenager realizing his homosexuality is not a new story, but I guess the director wanted a layer of "depth" to it by making him blind. I feel like I've seen this story time and again. This, too, got a fair rating on my ballot.
Images from "Manos Sucias" and "The Way he Looks"
After scarfing down some deliciously bland Chinese food at the Bourse food court I hurried over to the Ritz East for my next two features.
First was "Cracks in Concrete", an Austrian film about a man recently released from prison who tries to help his son avoid the same destructive path he has. While the son hopes to be a rapper, he pushes drugs on the side and eventually gets caught up in debts with the local crime lord. This ridiculously cliche and boring film had an ending message that was supposed to come across as uplifting
SPOILER ALERT:
An arguing father and son find a happy bond with each other after killing someone. Give me a break. It received the first, but not last, poor tick on my ballot.
Finally the last film of the day, "Mommy". I must admit, I was not looking forward to this film because its director, Xavier Dolan, seems like such a douche, and I didn't want to enjoy an egomaniac's film.
My reluctance to see "Mommy" was extended through incompetence on the programmer's part.
"Cracks in Concrete" was scheduled at 5 p.m. in theater B, and with a 105-minute runtime should have been over at 6:45. Of course, the start ran about five minutes later - in true PFF fashion - and ended at 6:50. "Mommy" was supposed to start at 7 in theater A, so all I had to do was walk across the lobby to the other theater for the next showing.
Nope.
X. Dolan won the prix du jury at Cannes this year for "Mommy", a hot ticket at the PFF this year that caused a 25-minute screening delay by switching theaters to accommodate the crowds
Someone must have been dropped on their head because they realized theater B is bigger than theater A and moved the highly-anticipated "Mommy" to that one. With "Cracks" ending at 6:50, how could they expect to start "Mommy" 10 minutes later? They couldn't. The screening didn't start until 7:25. As my anger flooded my tweets about this scheduling screw-up, I realized I wouldn't be able to stay for the whole showing.
I wanted to get home around 10 using SEPTA, and with the way this screening was going I left after 90 minutes. What I did see was exceptional. The story of a mother dealing with her emotionally unstable son and their connection to a mysterious neighbor was full of life, laughs and lamentation. Beautifully raw and full of wonderful dialogue and attractively fragmented characters. From what I saw, I would have marked it excellent on my ballot.
Day 3- An Avalanche of Laughs and Disappointment
Well-rested from the day before, I set out to start my day at the Bourse again, starting out with "The Immortalists", a documentary about two scientists who believe they have they found a way to reverse aging.
Starting one's movie-watching day off with a science flick isn't the best idea, but it kept my interest for the short 80-minute runtime. However, with such a great topic, the documentary didn't take full advantage of making a comprehensive feature, usually replacing science with personal sentiments of its two subjects. I gave it a fair rating on my ballot.
At the same time as "The Immortalists" was playing was "Two Days, One Night" at the Ritz East. The Dardenne Brothers vehicle stars Marion Cotillard as a woman convincing her co-workers to give up their bonuses so she can return to work. It was a great film with a another strong performance by Cotillard. I didn't see it at the festival, obviously, but it deserved a shout-out here.
The avalanche that unleashes laughs in "Force Majeure".
Next up at the Ritz East was "Force Majeure", Sweden's submission for Oscar consideration. It was a packed house for this comedy about a man who desserts his family when a controlled avalanche at the French Alp resort they're staying at appears to get to close. The days to come shows a struggle as the man and wife try to work past this lapse of judgement.
Yes, on the surface it sounds like it would be a drama, but it was a hilarious look at two people going to wits about right and wrong, and the eventual self-loathing that takes place. Momentarily think "Who's Afraid of Virginia Woolf?" but with less drinking and a lot more laughs. It's hard to say why this film is funny, but a nosy maintenance man who seems to always bear witness to the couple's arguing provides wordless moments of hilarity. I regret not marking this as excellent on my ballot, only marking it very good.
Next on the schedule was another film in PFF's 2014 theme of repetitively bland stories marked as new, "Girlhood". This French film follows a girl in the suburban ghettos of Paris who falls in with a "gang" of girls. In fact, these girls aren't even bad, just bored. They fight other girls, but isn't that common when you're a teenager? That's pretty much the only "bad" thing these girls do.
What bothered me is that the protagonist is a really boring character who is put forth like she is really being broken in by tough criminal activity. She only has moments of acting tough, but sits in the background doing nothing the rest of the time. She attempts to find redemption after being a drug runner, but I didn't care at that point. I had watched over 100 minutes of a bland story of a "good girl gone bad" that was arduous, plotless and unmotivated. The ending reads like a cliche redemption tale, but what was the redemption she sought? She didn't do anything. It was like a black, French counterpart to "Cracks in Concrete," but less violent. This one got marked poor on my ballot.
Day 4- Talking, Weirdness and Harry Potter
I had originally planned to watch
the Hurricane Sandy documentary "Same Time Next Year", but opted for lighter fare in "Mudbloods", a documentary about the collegiate quidditch league. Quidditch is a game from the Harry Potter books, where people fly on broomsticks and score points through hoops and catch a golden snitch to end the game, and earn even more points.
It was imaginative how a game involving magic could be brought to life through clever rules. Imagine playing dodgeball crossed with rugby on a playing field with brooms tucked between your legs. A must-see for Harry Potter fans "Mudbloods" is a light-hearted film that is funny and pretty tense at times. I marked this as good on my ballot.
A player checks out his jersey before the quidditich world cup in "Mudbloods".
Next was something I was looking forward to, "Clouds of Sils Maria", a Cannes player starring the always spectacular Juliette Binoche, the always bland Kristen Stewart, and Chloë Grace Moretz. Held in the same theater as "Mudbloods", the start time was about 10 minutes late because of the preceding film's Q&A with the director and a quidditch player after the screening.
Maria (Binoche) is a famous star who is approached to perform in a play that had made her famous 20 years ago, only to have her star-making role be filled by the up-and-coming Hollywood mess JoAnn (Moretz). Maria and her assistant Valentin (Stewart) retreat to the playwright's home in Sils Maria to rehearse, discuss the Hollywood system of aging, and JoAnn. This two-hour film is full of beautiful countryside, but the product itself is below par for its writer/director, Olivier Assayas.
There are long scenes of constant chatter that seem to be fueled by Binoche's sharp performance and Stewart's constant boredom and look of bother that she has to "work". Might have been better as a short subject instead of a never-ending talk fest that blurs the line between the reality the characters live in, and the world they're creating for the play. I marked this fair on my ballot.
Next was something I hoped would be more uplifting, but boy was I wrong (for the most part). The Animated Shorts Program, featured nine shorts and the only one I was really looking forward to was "A Town Called Panic: The Christmas Log", and that was the best thing I had seen all day. The stop-motion short based off the Belgian movie and TV show, follows Cowboy and Indian on a hilarious Christmas Eve expedition to find a bûche de Noël after ruining their dad's, Horse (yes, an actual horse).
Cowboy and Indian have numerous ways they try to steal their neighbor's, and succeed, sort of. It's an adventure that eventually leads up to Santa Claus's house at the North Pole. Think "The Three Stooges" as animated plastic figures.
Other highlights of the shorts were "Chaperone", which tells the story of a gym teacher from the '70s who stops a biker gang from crashing a school dance. It was another great laffer. "Obvious Child" was the weirdest thing I had seen. A demented looking girl tries to get her parents to heaven, collecting their bones and moving them about in various spots to have God let them enter. The really intricately dirty animation added to the grim tell it was telling.
All of the other shorts were really long and/or just not interesting.
Ratings:
"Manos Sucias"- Fair
"The Way He looks"- Fair
"Cracks in Concrete"- Poor
"Mommy"- "Excellent" (did not finish)
"The Immortalists"- Fair
"Force Majeure"- Very Good/Excellent
"Girlhood"- Poor
"Mudbloods"- Good
"Clouds of Sils Maria"- Fair
Animated Shorts Program- Good
I will not return to the festival until Wednesday night when I will be viewing Godard's "Goodbye to Language" and the Danish "Stations of the Cross", and Thursday's "Winter Sleep" and "Teacher of the Year".