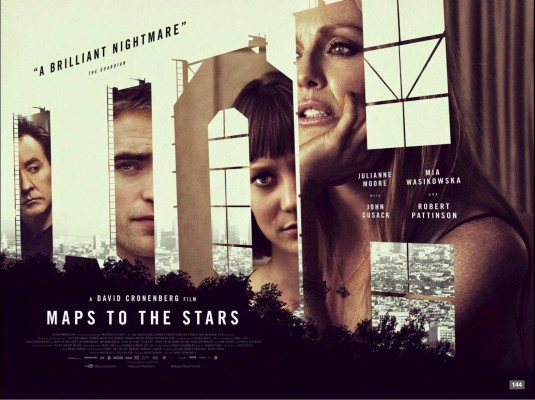 At this year's Cannes Film Festival there were two actresses who generated a lot of buzz to win the best actress prize: Julianne Moore as a self-destructing actress in "Maps to the Stars" and Marion Cotillard as a woman trying to get her job back in "Deux Jours, Une Nuit (Two Days, One Night)". Moore walked away with the prize, but who's to say one performance was truly better than the other?
These are two different roles in two vastly different movies and the end result are two great films with strong empowered women driving them to greatness.
Maps to the Stars
(2014, directed by David Cronenberg. U.S.A./Canada, English, Color, 112 minutes)
No one can make a film more unpredictable and fluid than Cronenberg, and "Maps to the Stars" proves it. In this ensemble piece we follow the dark side of the Hollywood system. Julianne Moore is the driving force here as the washed-up, Lindsay Lohan-esque character Havana Segrand, who's trying to revamp her career. In her aura is her psychologist (John Cusack), his teenage movie star (Evan Bird), a limo driver (Robert Pattinson) and a recent L.A. transplant named Agatha (Mia Wasikowska) with mysterious motives.
All of the stars align in this unpredictable and totally engaging piece about the Hollywood machine, thanks in great part to Bruce Wagner's script and Julianne Moore's tip-top performance. Never have I seen Moore act like such a Hollywood wreck, and I enjoyed it so much. From an actress who has played so many dramatic characters, here she does a 180 as a partying, completely unstable product of overindulgence and a lack of talent... like Lindsay Lohan. Equal parts haunting, funny and sad, "Maps to the Stars" balances a lot of characters and storylines flawlessly and with delicate care to each. You may not like some of the characters, but who in Hollywood is ever likable? At least this tries to explain it.
Rating: A
Deux Jours, Une Nuit (Two Days, One Night)
(2014, directed by Jean-Pierre and Luc Dardenne. Belgium/Italy/France, In French with subtitles, Color, 95 minutes)
In almost every scene of this film we see Sandra (Marion Cotiallard) going through the most important job interview ever. After taking medical leave from work, Sandra is told that the company has decided to give her 16 co-workers €1,000 bonuses if they decided to not let her come back. She goes to her co-workers one-by-one asking them to give up their bonuses to let her come back, trying to secure a majority of votes.
Staying true to their minimalistic portrayals of very common people, the Dardenne brothers hit the nail on the head again with this gem. Only they can create a tense product like this where as time runs out and options thin, people hold on to a pure form of hope and the Dardennes don't rely on a score to develop feelings. Cotillard is the soul of this film, a true showcase of how she can portray any character without effort and miraculously well. Her performance radiates so much emotion but without making Sandra seem like a walking pity party. I loved this movie for being something true and with a heartbeat that radiates in the whole 90 minutes, all through Cotillard's warmth and beautifully expressive eyes.
Rating: A